Dr. Feras Al Rezk
DABOI, DICOI, FAGD, MSc, DDS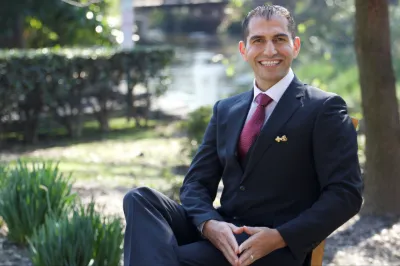 Diplomate of the American Board of Oral Implantology,
Diplomate of the International Congress of Dental Implantology,
Fellow of the Academy of General Dentistry
Master of Science in Oral Implantology

Hello and welcome to our implant website! I believe that dentistry is more than just skill and science; it is the desire and dedication to excellence!
I love playing soccer and enjoy my free time by spending quality time with my family. I am happily married and have two awesome boys.
Our team is committed to providing you with the gentle dentistry that you want in a safe, comfortable environment. One of my top priorities is to ensure that my patients have all of the information they require to make the best decisions for their oral health because today we know how important our oral health is to our overall health and well being.
As a General Dentist with an emphasis on Cosmetic Dentistry I am committed to more than the required continuing education courses to remain on the leading edge of the state-of-the-art techniques and the latest products to provide my patients with the very best that the field of dentistry has to offer. I also studied at The Pankey Institute, a school for advanced dental education, and have completed all four Essential levels. www.pankey.org
I am currently a Diplomate of the American Board of Oral Implantology, Diplomate of the International Congress of Dental Implantology and Fellow of the Academy of General Dentistry. I also have my Master of Science Degree in Oral Implantology. I have invented new surgical techniques that have been published in peer review journals. I'm also a pronounced speaker and author that has lectured both locally and internationally.
Memberships: American Dental Association, California Dental Association,Tulare-Kings Dental Society, American Academy of Dental Sleep Medicine, The Pankey Istitute for Advance Dental Learning and American Academy of Cosmetic Dentistry, American Academy of Cosmetic Dentistry, International Congress Oral Of Implantologists, & A fellow in the Academy of General Dentistry.
Our main goal, here at my practice, is to help our patients have a pleasant experience along with achieving a healthy oral cavity.